New Horizon Family Health Services is excited to welcome three new providers to our team!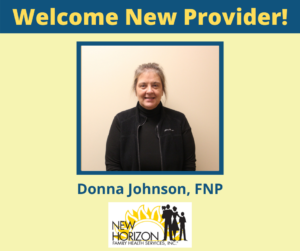 Please join us in welcoming Donna Johnson, FNP to our medical staff! Ms. Johnson is a board certified Family Nurse Practitioner and received her Post-Masters Certificate-Family Nurse Practitioner (PMC-FNP) degree from Duke University. For more than 20 years, she has served Upstate communities in a variety of health care roles.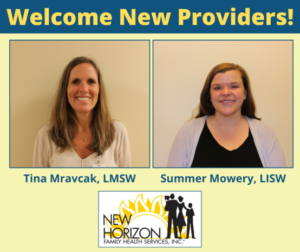 We are pleased to also welcome two Clinical Counselors to our Behavioral Health Team! Tina Mravcak, LMSW received her Master of Social Work (MSW) from Fordham University.
Summer Mowery, LISW, received her MSW from East Tennessee State University and has special training working with those living with HIV/AIDS as well trauma-focused cognitive behavioral therapy.
To make an appointment with a Clinical Counselor, please ask your NHFHS primary care physician for a referral.