COVID-19 Information
For the latest information about COVID-19, refer to the Centers for Disease Control and Prevention's website.
For information about the spread of the disease in South Carolina, visit the Department of Health and Environmental Control's website.
For general questions about COVID-19, the DHEC Care Line can help. Call 1-855-472-3432. Staff are answering calls from 8 a.m. to 6 p.m. seven days a week.
COVID-19 Vaccine
NHFHS is now offering the Moderna vaccine to ALL individuals in our community aged 18 or older at our Greenville office. 
Monday-Friday 8 am – 3:30 pm
975 W. Faris Road, Greenville 
Call 864-729-8330,  extension 1766 to make an appointment or just walk in! 
SC DHEC COVID-19 Vaccine Frequently Asked Questions:
https://scdhec.gov/covid19/covid-19-vaccination/covid-19-vaccine-faqs
CDC COVID-19 Vaccine Information:
https://www.cdc.gov/coronavirus/2019-ncov/vaccines/index.html
COVID-19 Testing Sites
NHFHS is not a COVID-19 testing site.
If you are experiencing symptoms of COVID-19 or think you have been exposed to COVID-19, the following organizations are providing testing: 
Helping to Stop the Spread of COVID-19
The safety of our patients and staff is our priority. That's why we've implemented the following precautions to help stop the spread of COVID-19:
All patients and staff will be required to wear a face mask while in our offices. If a patient does not have a mask, one will be provided.
Patients arriving at our offices will be screened for symptoms at the entrance of each facility including a temperature check and directed to the appropriate area to receive services.
Sick patients will be separated and isolated from others in designated rooms. These rooms will be closed and disinfected after each use.
Patients will be required to maintain a minimum of 6 feet from others. The number of patients in waiting rooms will be reduced to allow for adequate social distancing. If a waiting room reaches capacity, patients may be asked to wait in their vehicle until their appointment.
Our staff will continue to thoroughly clean and disinfect all areas and surfaces throughout our facilities.
Patients are encouraged to perform hand hygiene by washing their hands and using hand sanitizer which will be available throughout our offices.
Telemedicine visits are also available for patients who prefer to receive care virtually. To make an appointment, patients should call their NHFHS medical office.
We've also implemented the following enhancements to sanitization and infection control in our offices: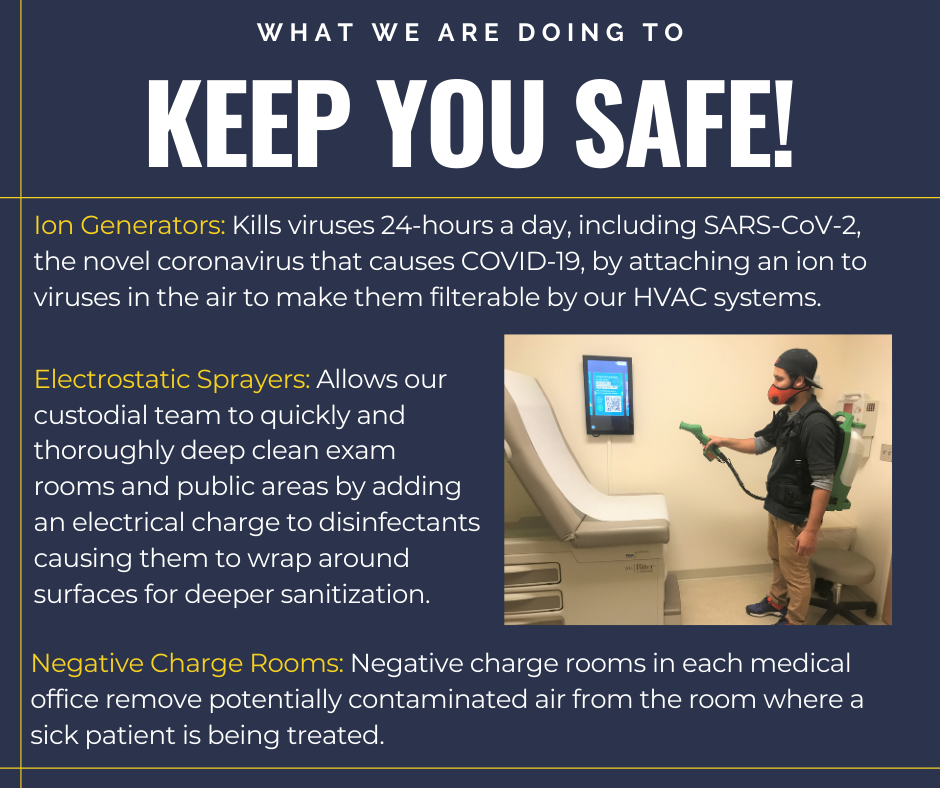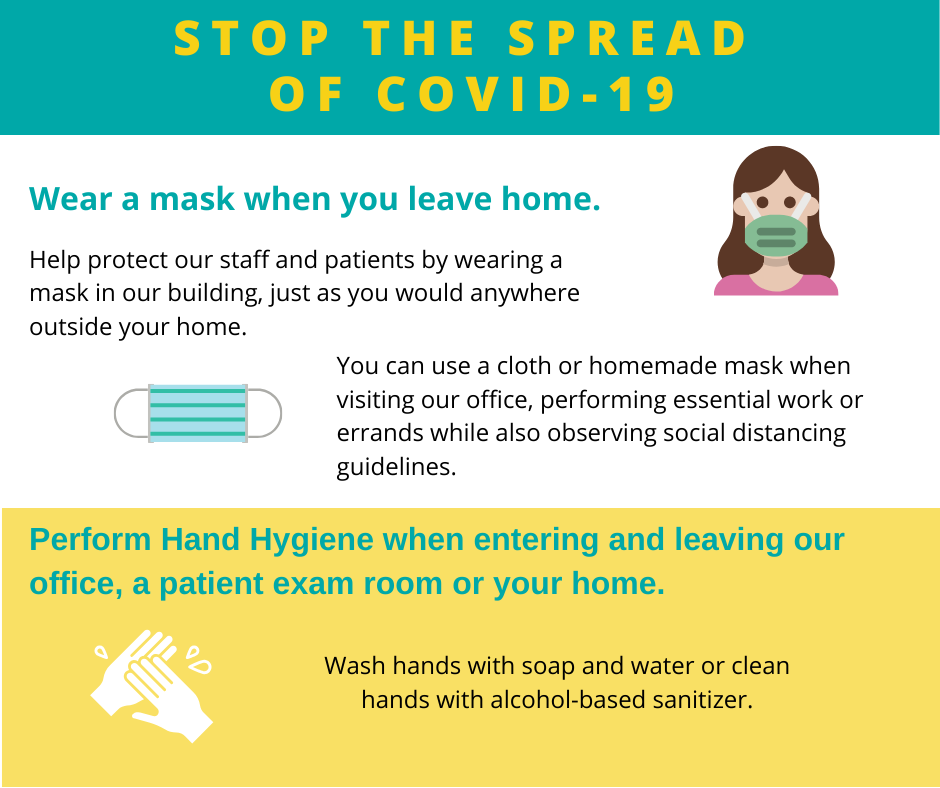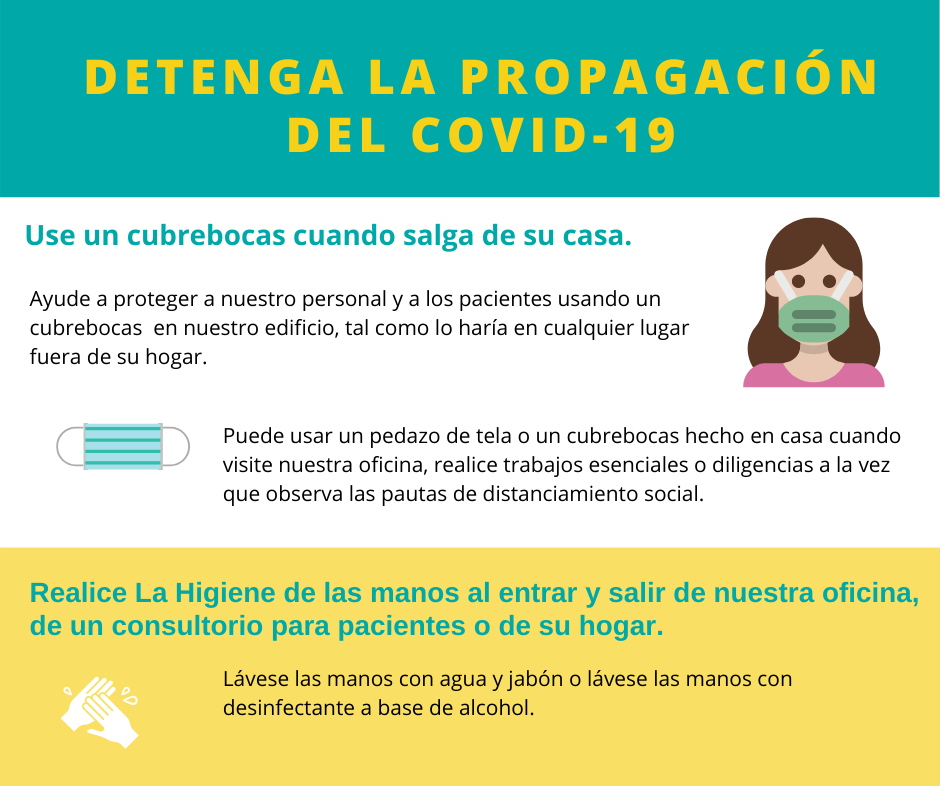 How to Wear a Cloth Mask
The CDC recommends that everyone wear cloth face coverings when leaving their homes, regardless of whether they have fever or symptoms of COVID-19.  Learn more about cloth face coverings and recommendations from the CDC on how to wear one correctly.
Your cloth face covering should:
✔️ Reach above the nose, below the chin, and completely cover the mouth and nostrils
✔️ Fit snugly against the sides of the face
✔️ Be made of multiple layers of fabric that you can still breathe through
✔️ Be able to be laundered and machine dried without damaging the material or shape
Do not buy surgical masks to use as a face covering. Those are intended for healthcare workers and first responders. Many items you may already have in your home can be used to create face coverings.
Try creating a cloth face covering using bandannas, ski masks, washable napkins, or dish towels.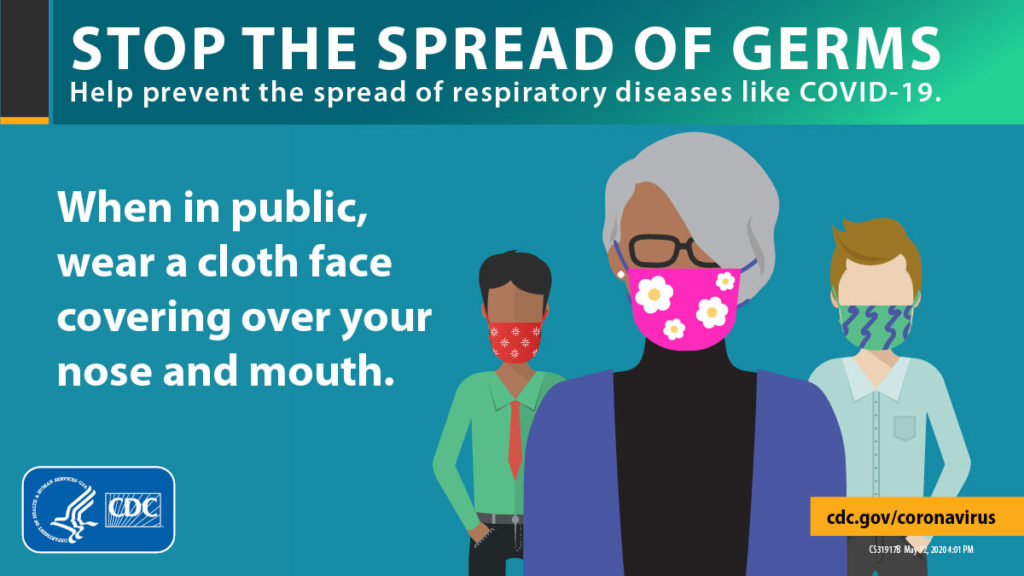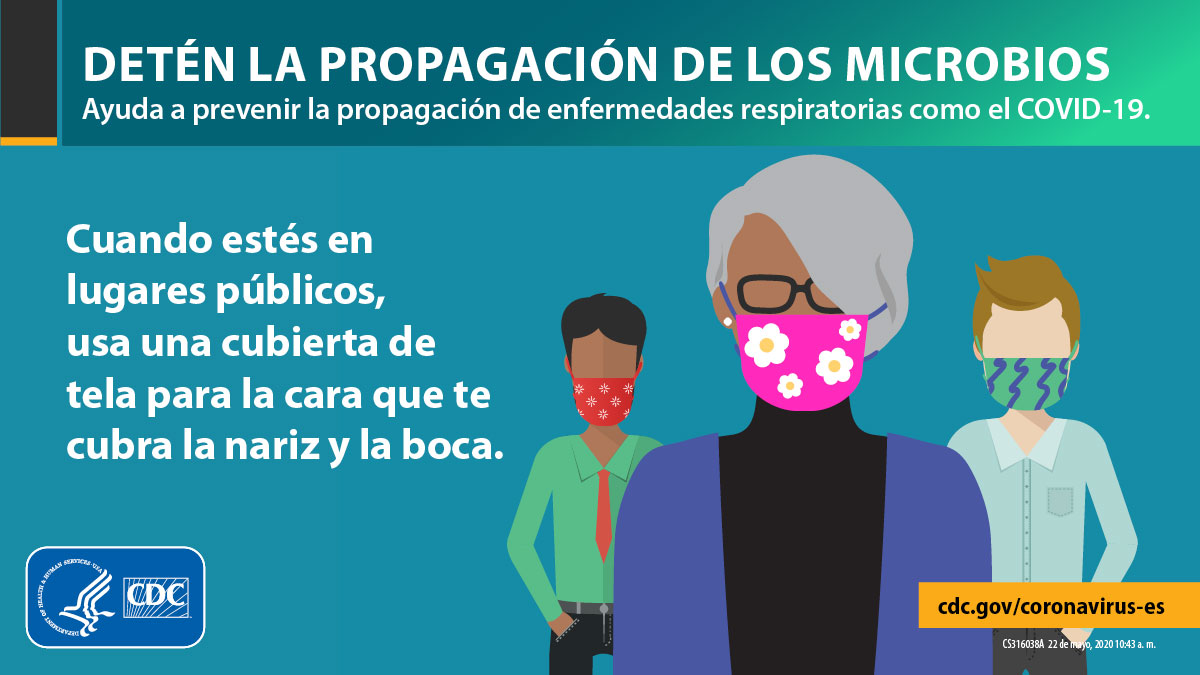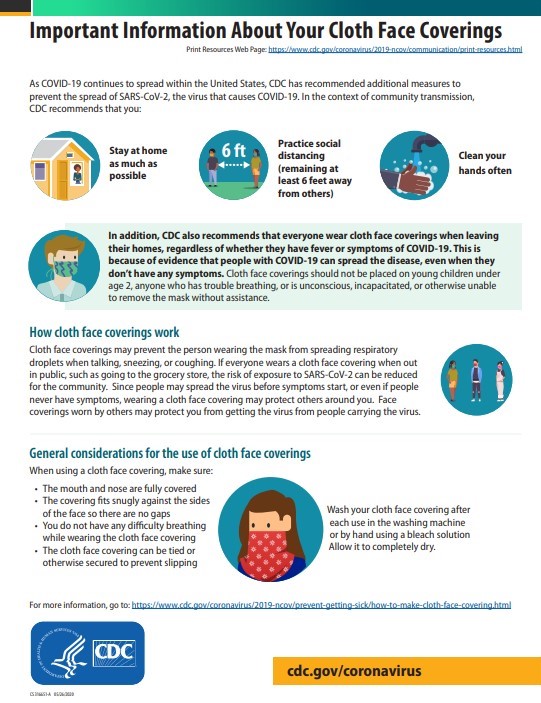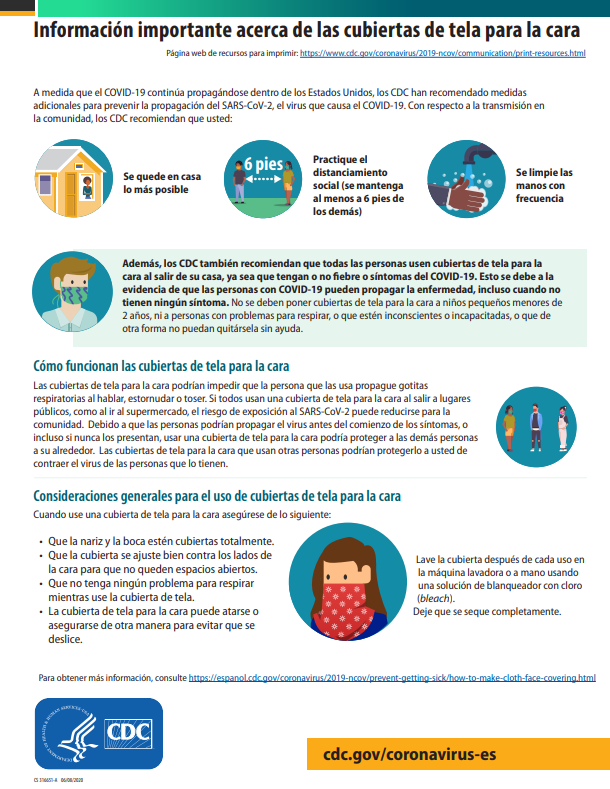 Additional CDC Resources: 
Fact Sheet – What You Need to Know About COVID-19
English:
https://www.cdc.gov/coronavirus/2019-ncov/downloads/2019-ncov-factsheet.pdf
Spanish:
https://www.cdc.gov/coronavirus/2019-ncov/downloads/2019-ncov-factsheet-sp.pdf