Up to Date on Your Vaccinations? It's Your Best Shot at Preventing Disease.
Making sure that you and your family are up to date on your vaccinations is your best shot at preventing disease. Vaccines are important because they not only protect the person who gets the vaccine but also help to keep diseases from spreading to others.
There's More Than One Important Vaccine.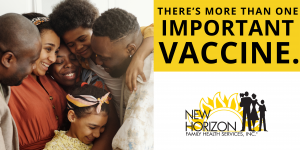 While it's important that everyone get the COVID-19 vaccine and booster as soon as they are eligible, remember to also stay current on all recommended vaccines. Unsure which vaccines you and your family should receive and when? Check out the resources below or speak with your primary care provider.
Vaccines Help Children Get Off to a Healthy Start!
Vaccines help children get off to a healthy start and keep them protected from disease. Routine well-child visits are essential and ensure your child is current on all immunizations to make sure they stay healthy. Vaccines are tested to make sure they are safe and effective for children to receive at the recommended ages.
Recommended vaccines for children include:
Chickenpox
Diphtheria, tetanus and pertussis (DTaP)
Flu
Measles, mumps, rubella
Polio
COVID-19 vaccine
Human papillomavirus (HPV)
Meningococcal
Tetanus, diphtheria and pertussis (Tdap)
Learn more about the vaccines your child needs at every age by visiting the following CDC resources:
Does your child need to catch up on immunizations or a well-child visit? We can help. Pediatric services are available at all NHFHS offices and mobile units.
Immunizations Aren't Just For Kids!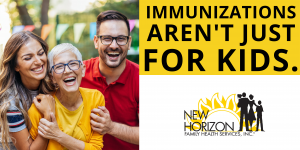 When you think about immunizations, it's probably childhood vaccines that come to mind but staying up to date on immunizations is an important part of staying healthy at any age. Your health care provider can let you know if you are up to date on your immunizations and what vaccines you may need and when.
Recommended vaccines for adults include:
Flu
Shingles
Pneumonia
Hepatitis A and B
Tetanus, diphtheria, pertussis
COVID-19 vaccine
To learn more about the CDC's adult immunization schedule for individuals 19 years of age and older, visit the CDC's Recommended Adult Immunization Schedule.
Need A Family Doctor?
Keeping up with routine preventative visits is an important way to make sure you are current on your vaccinations. At this visit, your doctor will review your immunization history and administer any needed vaccines. New Horizon Family Health Services offers primary medical care for all ages. Visit our Patient Resources web page to learn how to become a NHFHS patient.
All NHFHS medical offices offer the Moderna COVID-19 vaccine and booster shot to all eligible individuals in our community Monday-Friday from 8 am – 3:30 pm – no appointment needed! You can also make an appointment by calling 864-729-8330, extension 1766.
NHFHS also offers patients a flu shot at no cost at any NHFHS medical office location, no appointment needed. If you have insurance, your Medicare, Medicaid or private insurance will be billed. The vaccine is at no cost for uninsured patients.
Additional Vaccination Resources:
CDC Vaccines and Immunizations Web Page
NHFHS COVID-19 Resources Web Page
CDC COVID-19 Vaccines Web Page
14 Diseases You Almost Forgot About (Thanks to Vaccines!)
Vaccines & Pregnancy: Top 7 Things You Need to Know
Vaccines for Your Children – Why Vaccinate