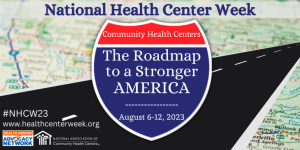 New Horizon Family Health Service (NHFHS) is excited for the return of National Health Center Week, August 6 through 12, 2023. This annual, week-long celebration is part of a national campaign to acknowledge the vital role health centers play in providing access to quality health care in our communities. As the nation's largest primary care provider, health centers are the safety net for nearly 30 million people offering comprehensive primary care to individuals regardless of their insurance status.
National Health Center Week is an opportunity to highlight the commitment and passion of our staff, board members, and supporters. It is their dedication that makes it possible for NHFHS to provide quality, patient-centered care to nearly 20,000 patients.
NHFHS will observe National Health Center Week with the following Focus Days:
Monday, August 7th – Health Care for People Experiencing Homelessness Day
Tuesday, August 8th – Oral Health Day
Wednesday, August 9th – Patient Appreciation Day
Thursday, August 10th – Stakeholder Appreciation Day
Friday, August 11th – Health Center Staff Appreciation Day
Saturday, August 12th – Children's Health Day
Be sure to follow us on our social platforms for details and updates on our National Health Center Week activities.